Imaging Mass Cytometry
Imaging Mass Cytometry™ (IMC™) is the most trusted technology that enables researchers to accurately assess complex phenotypes and immune spatial interactions in the tissue microenvironment.
Explore mechanism of action, disease progression and therapeutic outcomes – with confidence.

Discover the throughput and precision that is uniquely designed for translational researchers.
Imaging Mass Cytometry generates high-dimensional spatial data at subcellular resolution. IMC uses cytometry by time-of-flight (on which CyTOF® systems are based) to overcome the multiplexing limitations of traditional immunohistochemistry (IHC) and immunofluorescence. By applying metal-tagged antibodies instead of fluorochromes, IMC has the unique capability to simultaneously stain, acquire and analyze 40-plus markers of interest on a tissue section without interference from autofluorescent tissues or management of spectral overlap.
IMC is the only technology with
No autofluorescence interference to
image any tissue type
---
40-plus markers imaged simultaneously to get
results faster
---
Protein and RNA co-detection for
deeper insights
---
Integrated cell segmentation for
faster interpretation
---
Batch staining of all slides for
high-volume studies
---
Dual imaging and flow cytometry mode to
maximize investment
IMC shows the true biology
High-plex imaging for all tissue types ― including lung, bone marrow, colon and brain ― without autofluorescence interference.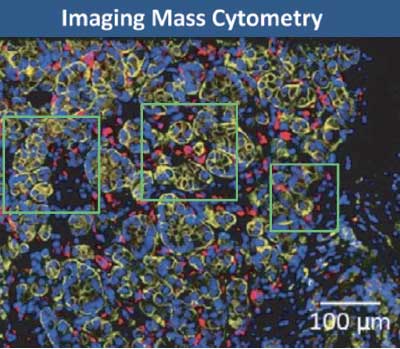 Well-defined red signals from CD68
Cellular structure is sharply defined by yellow pan-cytokeratin stain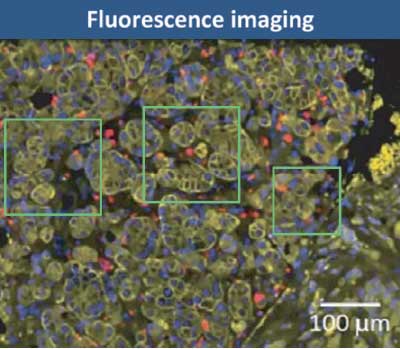 CD68 indistinct or missing
Cellular structure diffuse
---

WORKFLOW
Get results faster
---
Hyperion™ Imaging Systems use a one-step staining and detection approach that enables samples to be simultaneously stained, acquired and analyzed.
1 Modularized panels
Swap markers without panel revalidation.
2

Simultaneous staining
Stain 40-plus markers for all slides at once.
3

One-step detection
Simultaneous imaging of 40-plus markers, including protein and RNA.
4

Precise signals
Image any tissue without autofluorescence.
5

Real-time analysis
Visualize 40-plus markers in 30 minutes.
A one-step staining and detection workflow
---
Imaging Mass Cytometry enables 40-plus markers that can be simultaneously stained, acquired and visualized. Other fluorescence-based approaches involve iterative rounds of staining, imaging and removal of fluorescent signals. The IMC workflow is without sequential immunostaining approaches, multiple slide treatment rounds or acquisition steps.
Need to ship or store slides?
---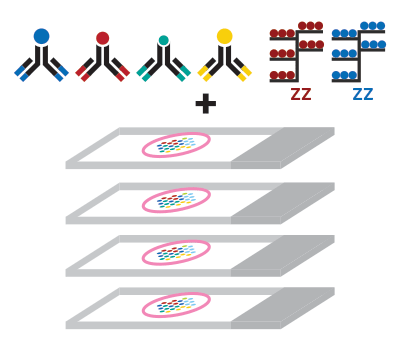 All-at-once batch staining of all slides to reduce technical variation
Acquire at any time from shipped and/or stored slides that have been stained
Analyze previously banked tissue slides to be correlated to known clinical outcomes
A workflow ideal for high-volume samples,
clinical research trials and multi-site studies
Events
Join us for one of our upcoming events or watch on demand.
Oct 04 - Oct 05
Location
FOG (Festival of Genomics) in Boston, MA
Oct 11 - Oct 13
Location
Spatial Biolog for Drug Development Summit in Boston, MA
Oct 12 - Oct 13
Location
WACD (Western Association of Core Directors) in Portland, OR
Oct 12 - Oct 18
Location
AAVLD (American Association of Veterinary Laboratory Diagnosticians) in National Harbor, MD
Oct 12 - Oct 13
Location
Immuno US in San Diego, CA
Oct 18 - Oct 20
Location
NERLSCD (Northeast Regional Laboratory Staff & Core Directors) in Burlington, VT
Oct 22 - Oct 27
Location
DGfI (German Society for Immunology) Autumn School for Immunology in Hale, Germany
Oct 22 - Oct 25
Location
APPS 2023 PharmSci 360 (American Association of Pharmaceutical Scientists) in Orlando, FL
Oct 23 - Oct 24
Location
1st European CyTOF Congress in Rome, Italy
Oct 25 - Oct 28
Location
2nd Annual Conference of Cell Death, Chinese Society for Cell Biology in Xiamen, China
Unless explicitly and expressly stated otherwise, all products are provided for Research Use Only, not for use in diagnostic procedures. Find more information here.