Imaging Mass Cytometry
Gain unprecedented insights from highly multiplexed single-cell spatial biology
Imaging Mass Cytometry™ (IMC™) is a vital tool that allows researchers to gain an appreciation of the role of heterogeneity in cell function and assess complex phenotypes and tumor-immune interactions in the tissue and tumor microenvironment. Gain a deeper understanding of the spatial environment to answer important translational and clinical research questions in the context of disease.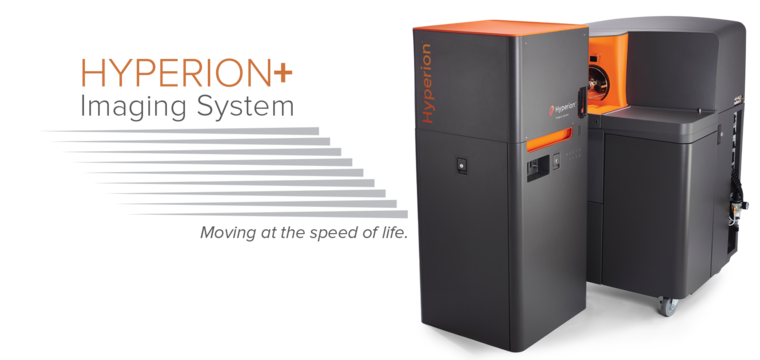 When speed matters, get faster answers for cohort analysis and clinical studies with the second-generation Hyperion+™ Imaging System.
Learn more
Workflow
1 Design
Design panels using pathologist-verified Maxpar® antibodies conjugated to metal tags.
2

Stain
Stain tissues (FFPE or frozen) using familiar IHC protocols.
3

Image
Image up to 40 protein markers at single-cell resolution using the Hyperion™ Imaging System.
4

Analyze
Analyze images in minutes using the MCD™ Viewer and easily export for secondary analysis.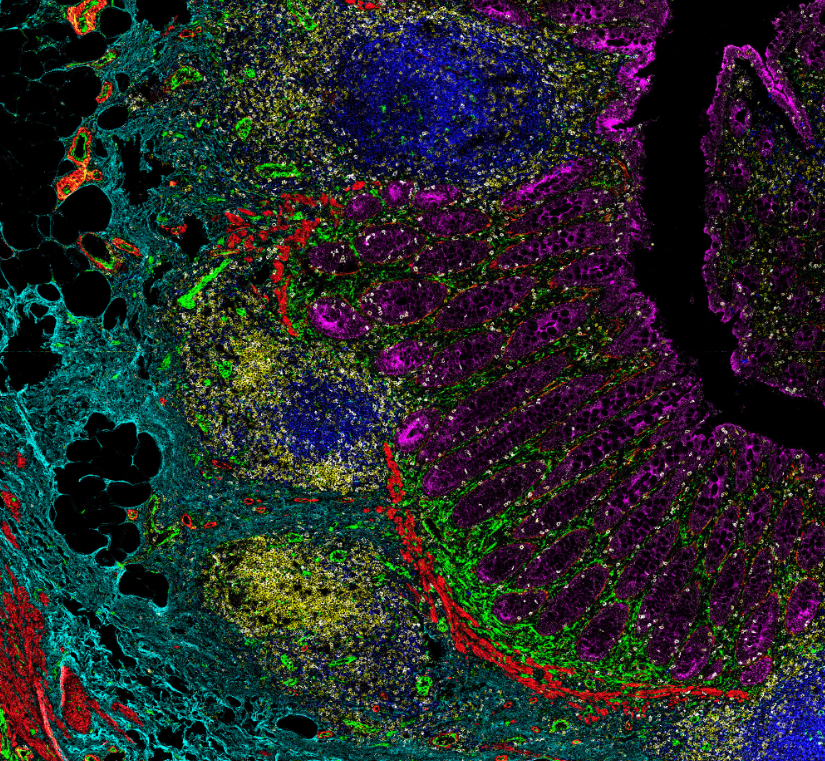 Using the Hyperion Imaging System, you can visualize the complex spatial biology of the tissue microenvironment with Imaging Mass Cytometry.
Single-cell resolution: allows accurate and quantifiable phenotyping and cell function assessment


No autofluorescence: reliable results when working with highly autofluorescent tissues like lung, gut, brain and skin


No time-consuming cyclic protocols: high-plex protein detection from formalin-fixed, paraffin-embedded or frozen tissue sections


Proven: hundreds of hands-on users and more than 130 peer-review published references
Expert insight on the transformation of precision medicine
Olivier Elemento, PhD
Professor, Physiology and Biophysics, Weill Cornell Medicine
Director, Englander Institute for Precision Medicine
Olivier Elemento shares his expert insight on the transformation of precision medicine. In this short video, Elemento describes why artificial intelligence, high-throughput sequencing and Imaging Mass Cytometry are becoming increasingly critical tools for personalizing treatments and improving patient outcomes.
JOIN US
Join the hundreds of researchers globally who are using Imaging Mass Cytometry to phenotype the tissue microenvironment, stratify samples and discover biomarkers to gain therapeutic insights that address significant translational and clinical research questions.
See more than 130 publications
Events
Join us for one of our upcoming events or watch on demand.
Mar 28 - Mar 30
Location
Forum Labo in Paris, France
Mar 28 - Mar 30
Location
EACR/OECI (European Association for Cancer Research/Organisation of European Cancer Institutes) Molecular Pathology Approach to Cancer in Bergamo, Italy
Mar 28 - Mar 29
Location
Immuno UK in London, UK
Mar 28
Virtual
Scientist in the Spotlight | Toward identifying immune dysfunction signatures in myelodysplastic neoplasms
Apr 04 - Apr 05
Location
SIG (The Genetics Society) Seed Plant Research Meeting 2023 in Durham, England
Apr 14 - Apr 19
Location
AACR (American Association for Cancer Research) in Orlando, FL
Apr 16 - Apr 18
Location
CIB (CROP Innovation & Business) in Amsterdam, Netherlands
Apr 19 - Apr 21
Location
SIC 2023 | XVII Congress of the Iberian Society of Cytometry in Madrid, Spain
Apr 20 - Apr 22
Location
35th Tumor Genetic Workshop 2023 in Rostock, Germany
Apr 20 - Apr 23
Location
DGfI TIMO XVI (German Society for Immunology) in Halle, Germany
Unless explicitly and expressly stated otherwise, all products are provided for Research Use Only, not for use in diagnostic procedures. Find more information here.