COVID-19 Update
Standard BioTools Research and Response to the COVID-19 Pandemic
Standard BioTools™ supports the response to the global COVID-19 pandemic with technologies that enable research and applications for SARS-CoV-2 virus detection and the monitoring of human immune system response to infection and COVID-19 disease. To that end, our technologies are well-positioned for use in providing a robust public research response in support of policies and treatments aligned with local, state and national recovery.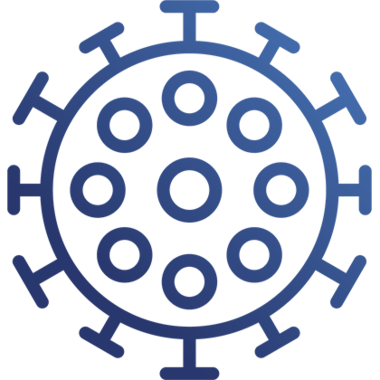 COVID-19 Disease Immune Monitoring and Spatial Tissue Profiling Research
Standard BioTools CyTOF® technology with the Maxpar® Direct™ Immune Profiling Assay™ provide best-in-class immune monitoring with the cost, flexibility and consistency needed for standardized COVID-1...
COVID-19 Disease Therapeutic and Vaccine Development
Both CyTOF technology with the Maxpar Direct Immune Profiling Assay and Imaging Mass Cytometry™ enable immune response studies designed to identify prognostic and mechanistic biomarkers that can be us...
Proven performance
Maxpar Direct Immune Profiling System
Learn more about the Maxpar Direct Immune Profiling Assay and Maxpar Pathsetter™ software, the first complete sample-to-answer solution for high-dimensional immune profiling of human PBMC and whole blood, with proven performance in multi-site studies.
Read the recent paper reporting results from the Immunophenotyping Assessment in a COVID-19 Cohort (IMPACC) study, a longitudinal, multi-site study that used the Maxpar Direct Immune Profiling Assay as a key assay in its multi-omic workflow.
Standard BioTools Infectious Disease and Oncology Virtual Summit

We invite you to join us for a half-day virtual event where researchers will share their latest findings in infectious disease, oncology or immuno-oncology research. Speakers will include Burkhard Becher, PhD, Evan Newell, PhD, Hiroyoshi Nishikawa, MD, PhD, and Kurt Schalper, MD, PhD.
Don't miss this exciting event bridging the space from technological innovations to real world applications and results that impact human health.
Webinar: Bring the Power of CyTOF to COVID-19 Research

Presenter:
Andrew Quong, PhD
Chief Science Officer
Webinar: Detection and Characterization of Viral Pathogens with Microfluidics-Based Genomic Analysis

Presenter:
Bill Hunt, MS
Director, Microfluidics Product Management
Unless explicitly and expressly stated otherwise, all products are provided for Research Use Only, not for use in diagnostic procedures. Find more information here.