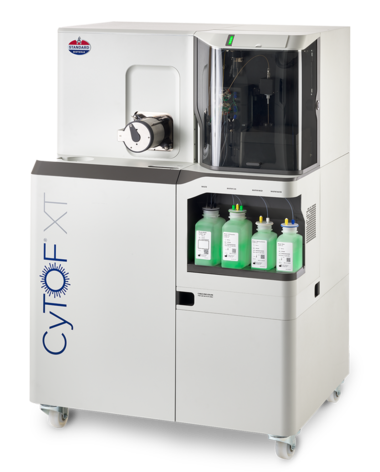 CyTOF XT
Reimagine cytometry
Fully automated and affordable cytometry by time-of-flight. Simplify and standardize your deep single-cell profiling studies.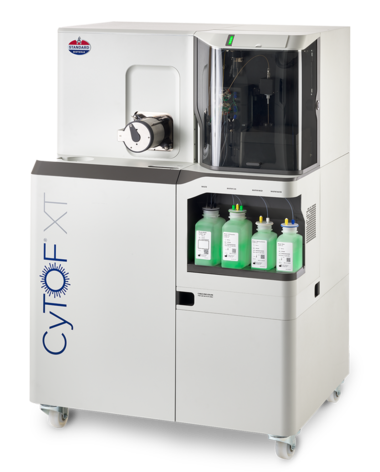 CyTOF XT™: The NeXT Evolution
Preview the new CyTOF XT.
Technology
Driving groundbreaking insights at the single-cell level, millions of times
Mass cytometry, powered by CyTOF® technology, is the world's most advanced cytometric platform. It has opened new doors to discovery and clinical research by empowering investigators to interrogate more than 50 markers simultaneously on millions of individual cells. Join the hundreds who have reimagined cytometry with CyTOF to unveil new cell types, functions and biomarkers in immunology, cancer, infectious disease and more.
XTra Autonomy:

CyTOF® XT automation expands what your lab can accomplish by simplifying daily workflows and freeing operator time for other tasks

XTra Efficiency:

Simplified front-end assembly, bottle tray for solutions and automated tuning minimize maintenance and calibration.

XTra Clarity:

The precision of measuring marker expression using mass cytometry is unmatched by fluorescence cytometry methods. Cleaner signals mean data is more accurate.
Workflow
1

Design Panel
Easily build panels with 20 to 50 or more metal-tagged antibodies and reagents using Maxpar® Panel Designer. Add barcoding to multiplex your samples for even better data quality. Or begin with our pre-built panels.
2

Load
Up to 13 individual samples can be loaded in the chilled sample carousel for a single batch run.
3

Resuspend
The sample pellet is automatically resuspended and calibration beads added immediately prior to acquisition of each sample.
4

Acquire
Up to 13 different panels and sample types can be acquired unattended with preconfigured acquisition templates on the CyTOF XT.
5

Analyze
FCS 3.1 files can be analyzed with any capable software including FCS Express™ and Cytobank. Maxpar Pathsetter™ provides automated immune profiling data analysis.
Publications
Browse the latest research highlighting Mass cytometry, powered by CyTOF® technology.
View All
GET MORE INFORMATION
Interested in Standard BioTools Mass Cytometry products or need a quote? Contact our sales team for product orders, quotes or other inquiries.
CyTOF Software v8.0
CyTOF® Software v8.0 offers support for cell suspension-based sample analysis to the CyTOF XT system. The software has the built-in capability for automated calibration, batch sample acquisition, a...
CyTOF Software (Non-acquisition workstations only)
CyTOF® Software offers support for imaging analysis to Hyperion™ Imaging System users.
CyTOF Software
CyTOF® Software offers support for the imaging and cell suspension-based sample analysis to Hyperion™ Imaging System and Helios™ system users. The software has the built-in capability to switch sam...
Abundance sensitivity
<0.3% for M+1 with M = 159Tb <0.3% for M–1 with M = 175Lu
Instrument response
500 159Tb dual counts/EQ™ Six Element Calibration Beads
Dynamic range
4.5 orders of magnitude
Operating system
Windows® 10 Enterprise LTSC
Sample introduction
Dual syringe drive
Sample format
12 x 5 mL tube positions 1 x 15 mL tube positions
Reagent reservoir
Maxpar® Cell Acquisition Solution Plus for CyTOF® XT 1L Maxpar Water 500 mL Maxpar Washing Solution for CyTOF XT™ 500 mL
Monitor
86 cm (34 in) LED
.fcs
4 bytes/channel/event
.lmd
Compressed format. 5–20 GB/hr (typical)
_Beads.fcs
0.91 MB/hr (typical)
_Processed.fcs
4 bytes/channel/event
CyTOF XT instrument dimensions
Unless explicitly and expressly stated otherwise, all products are provided for Research Use Only, not for use in diagnostic procedures. Find more information here.