Deciphering one of the most challenging forms of cancer
A poster by Standard BioTools scientists sheds light on the spatial landscape of neoplastic brain tissue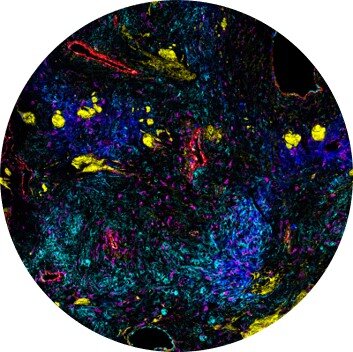 Brain neoplasms represent a complex kind of cancer that's one of the most challenging to classify and treat. Over 120 tumor subtypes originate from various parts of the central nervous system, and each subtype has its own array of treatments, difficulties and outcomes. Brain neoplasms can also have life-altering effects on a patient's life, and brain cancer survival rates remain little-changed, despite years of research and even while survival rates for other types of cancers have improved. Identifying the composition of the tumor microenvironment (TME) is therefore key in the early assessment of progression, treatment and prevention of brain cancer. So how best to decipher the TME?
That's where Imaging Mass Cytometry™ comes in. IMC™ offers unprecedented insight into the TME by simultaneously uncovering the spatial distribution of 40-plus distinct molecular markers without autofluorescence. The study of biological systems at the single-cell level reveals underlying heterogeneity that impacts cell differentiation, disease progression and immune response.
To further uncover the complexities of brain neoplasms, scientists from Standard BioTools™ authored a poster, presented at AACR 2023 and CYTO® 2023, that demonstrates the successful application of high-plex human and mouse neuro-oncology IMC panels on normal and tumor formalin-fixed paraffin-embedded brain tissues.
A basic neuro phenotyping panel was developed and used to customize Maxpar® Human Immuno-Oncology IMC Panel Kits and Maxpar OnDemand™ Mouse Immuno-Oncology IMC Panel Kits. These neuro phenotyping panels are made up of cross-reactive clones and enable flexible panel design for brain-specific research goals, such as brain tumor classification and assessment of neuronal inflammation, degeneration and development.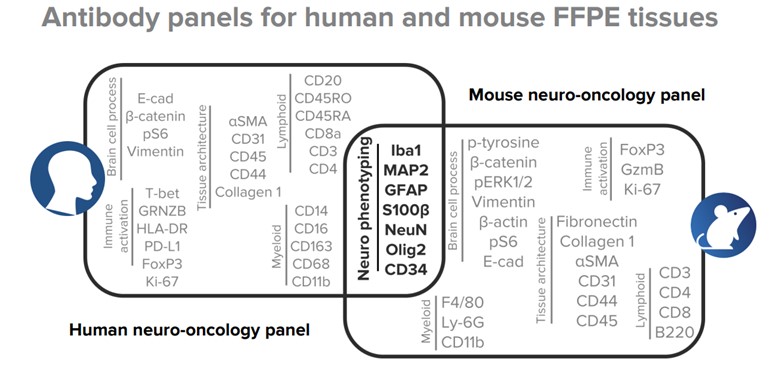 A 40-parameter human antibody panel and a 36-parameter mouse antibody panel are subdivided into six modules, with each module revealing critical insights about normal and tumor tissue composition, state and biology.
A 40-parameter human panel and 36-parameter mouse panel – both containing antibodies that identify major cell populations in normal brain and specific states of tumor and immune cell populations in the diseased brain – were applied on human and mouse tissue microarrays. Slides were ablated using the Hyperion™ Imaging System and data analysis was performed using MCD™ Viewer.
Some tumor-specific insights were observed: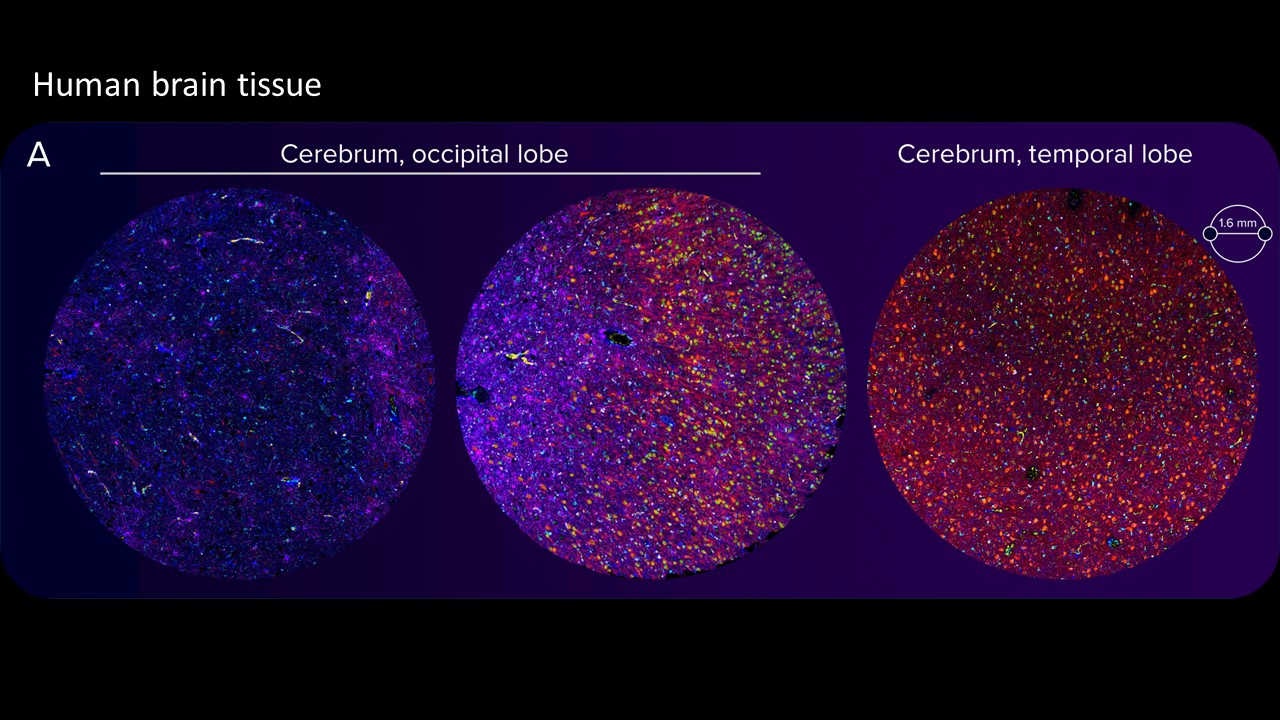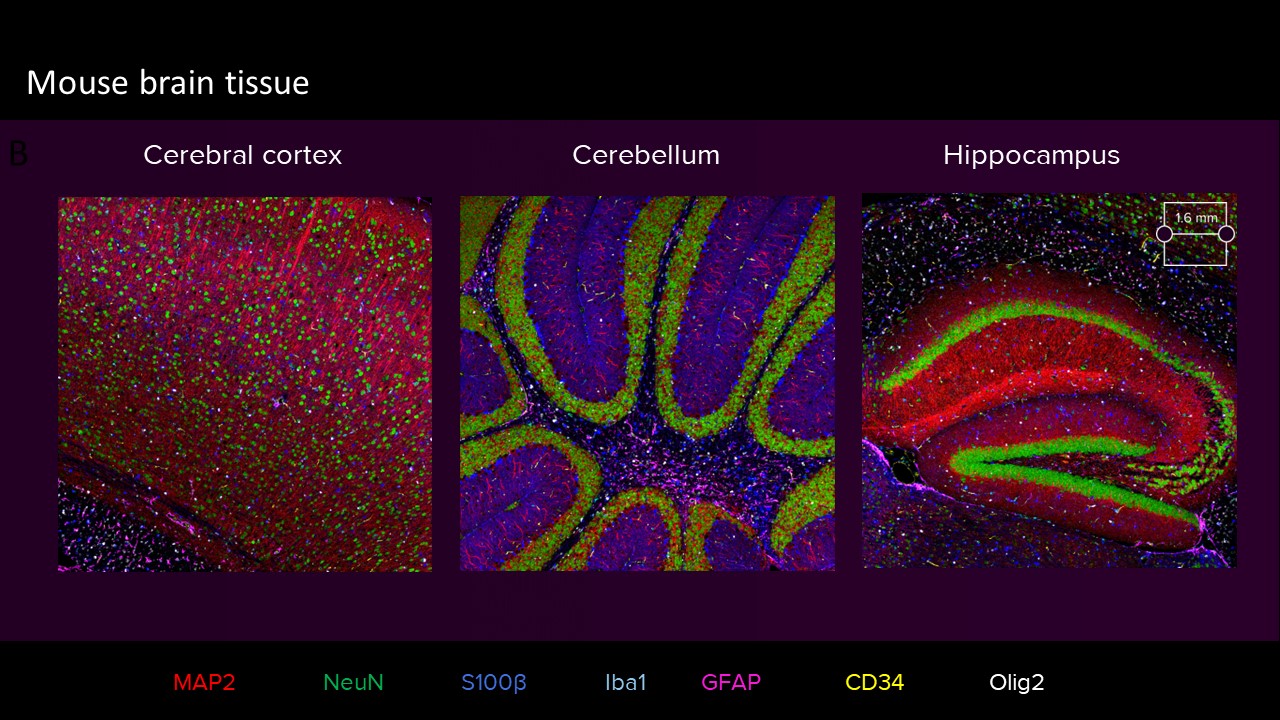 Images of highly autofluorescent normal FFPE human cerebral cortex tissue (A) and normal FFPE mouse cerebral cortex, cerebellum and hippocampus tissue (sagittal cut) (B) are shown. The following brain tissue constituents can be identified: neuronal cell bodies and axonal extremities (NeuN, MAP2), oligodendrocytes (Olig2), resting and activated astrocytes (GFAP, S100β), resting and activated microglia (Iba1) and brain vasculature (CD34).
---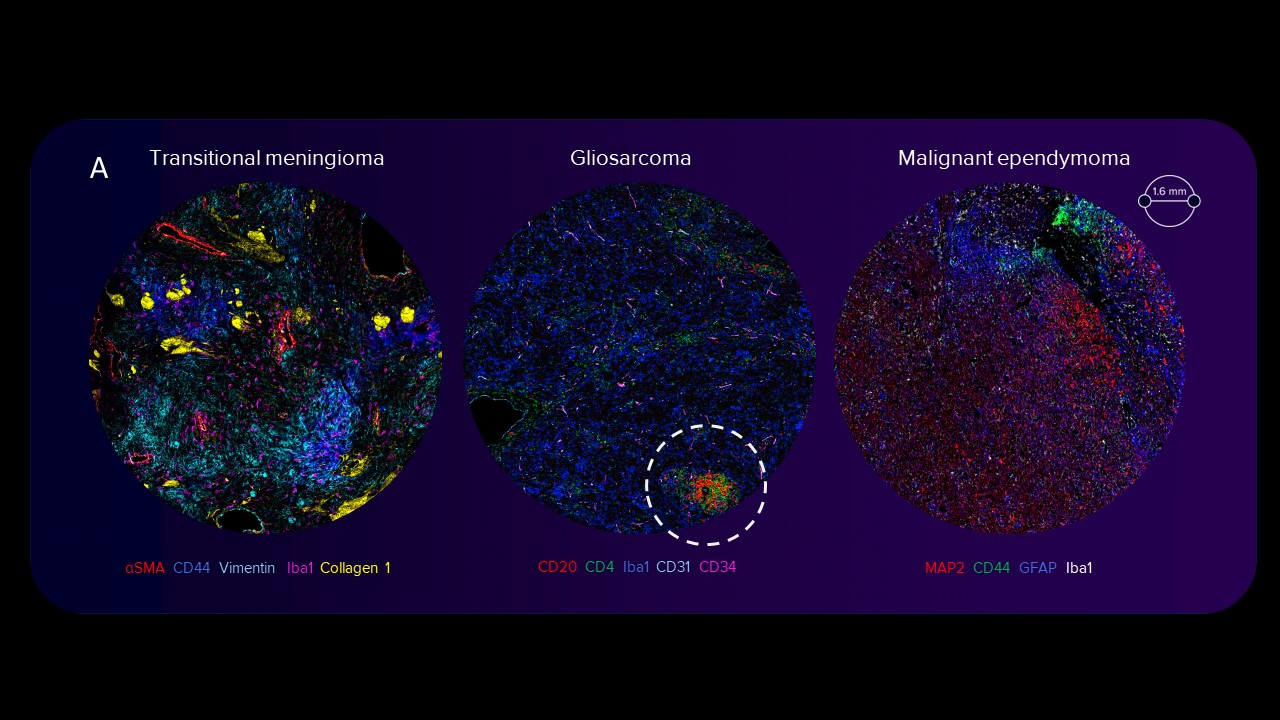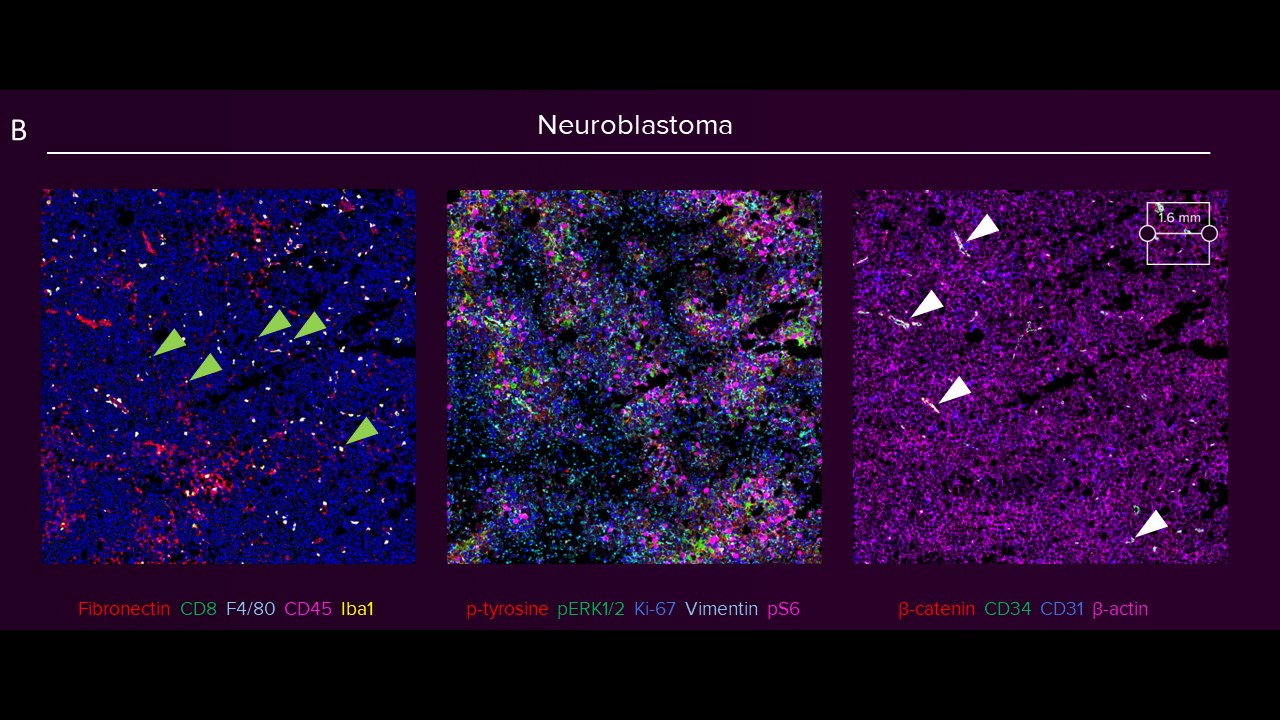 Images of human transitional meningioma, gliosarcoma, malignant ependymoma (A) and mouse neuroblastoma (B) are shown. The diverse composition of connective tissue (αSMA, collagen 1) can be observed in human transitional meningioma. A cluster of infiltrating B cells (CD20) and T helper cells (CD4) around a blood vessel (CD34, CD31) and microglia (Iba1) scattered around tissue can be observed in human gliosarcoma. The presence of activated amoeboid microglia (Iba1) can be seen in human malignant ependymoma. In mouse neuroblastoma (B) tissues, scattered deposits of fibronectin and presence of myeloid cells (F4/80, Iba1) are seen. Only a few cytotoxic T cells (green arrowheads) are observed. The activation of receptor tyrosine kinase, Ras signaling, mTOR signaling, replication, activation and cytoskeletal structure across tumor cells is detected, and the relative spatial positioning of the vascular network (white arrowheads) within the TME is distinguished.
Our high-parameter neuro-oncology panels successfully analyzed the spatial landscape of normal and neoplastic brain tissues, identifying major cell populations such as neurons, astrocytes, microglia and oligodendrocytes. Various tumor cell phenotypes, resident and infiltrating cells and resting and activated microglia were also detected in brain tumor subtypes. Crucially, the spatial positioning of major brain cell types was recognized without any spectral overlap or tissue autofluorescence.
Imaging Mass Cytometry is a key tool for successfully analyzing the cellular composition of neuronal tissue, providing an unprecedented glimpse into the TME without the hindrance of autofluorescence, and our customizable, flexible panels allow for the swapping in and out of markers to evolve with your specific and changing research needs. Brain cancer is complex and difficult, but seeing it in context doesn't have to be.
Check out other blog posts
---
Unless explicitly and expressly stated otherwise, all products are provided for Research Use Only, not for use in diagnostic procedures. Find more information here.