Exploring a new frontier in immuno-oncology
Cutting-edge workflow combines RNAscope technology and the multiplexing capability of IMC to visualize key RNA and protein markers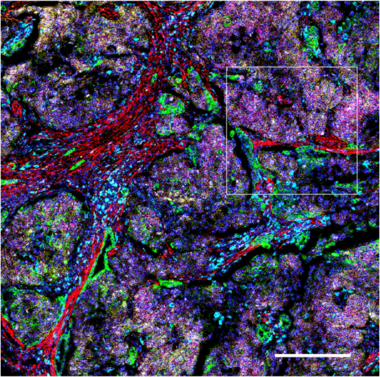 High-plex imaging tools offer the ability to identify and decipher the spatial arrangement of cell types in tissue to study various states of health and disease. Research in tumor biology, cancer progression, immune response to therapies, infectious diseases, autoimmunity and more has demonstrated the immense value in mapping complex tissues using technologies like Imaging Mass Cytometry™ (IMC™).
Until recently, other single-cell technologies that capture gene transcription are used alongside imaging tools that measure protein expression to gain information about heterogeneous pathological states on a single-cell level. In a major step forward for imaging techniques, Advanced Cell Diagnostic's RNAscope™ technology for RNA detection can now be paired with IMC to simultaneously visualize key RNA and protein markers in the same tumor samples.
Why is the co-detection of RNA and protein important? Since some cellular information can only be imaged by proteins, combining detection of RNA and protein markers on the same slide significantly expands what markers and cell activities can be investigated in a single experiment. RNA and protein co-detection can reveal comprehensive data about what interactions are occurring and where they're localized. Essentially, you acquire more significant information – faster.
Scientists from Standard BioTools™ and ACD collaborated on a poster, presented at AACR 2023 and CYTO® 2023, that outlines a simple three-step procedure combining the RNAscope HiPlex Flex Assay v2 with IMC to evaluate expression of RNA and protein targets in formalin-fixed, paraffin-embedded tumor samples, allowing an investigator to visualize 40-plus markers, 12 of which can be used for RNA detection.
STEP 1: Labeling of Detection Oligonucleotides
---
Label your detection oligonucleotides. The metal-ready probes (ACD), which get added to the amplification trees in the RNAscope procedure, are conjugated with lanthanide metals.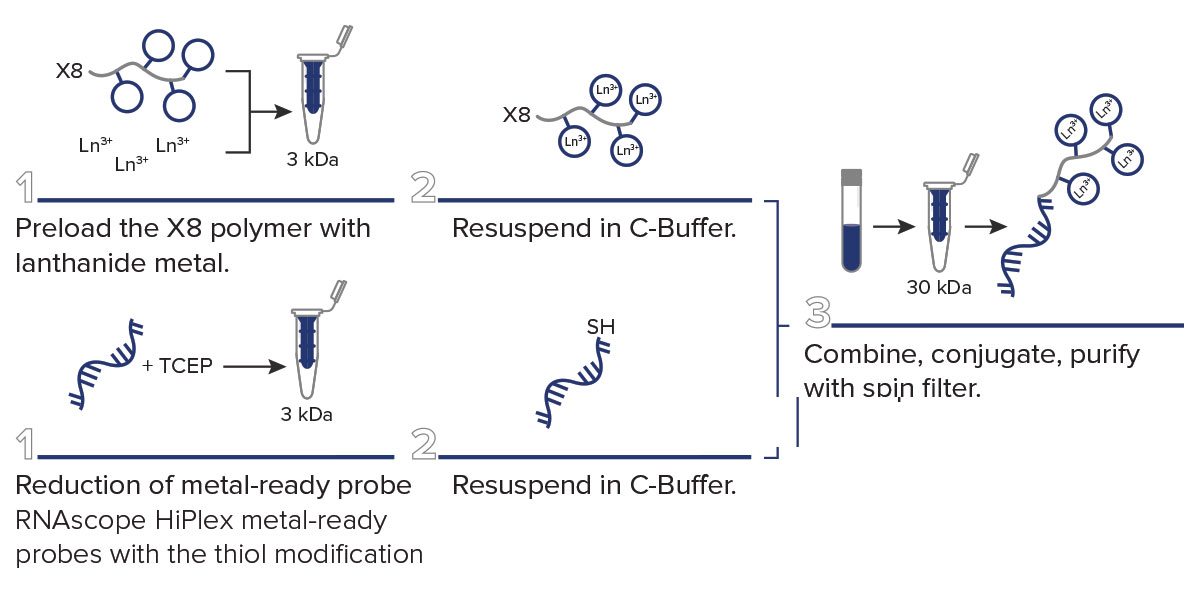 Step 2: Modified RNAscope HiPlex Flex Assay v2
---
Perform the modified RNAscope HiPlex Flex Assay. Using the metal-ready probes that are now conjugated to the metal tags of your choice, carry out the assay on your FFPE samples.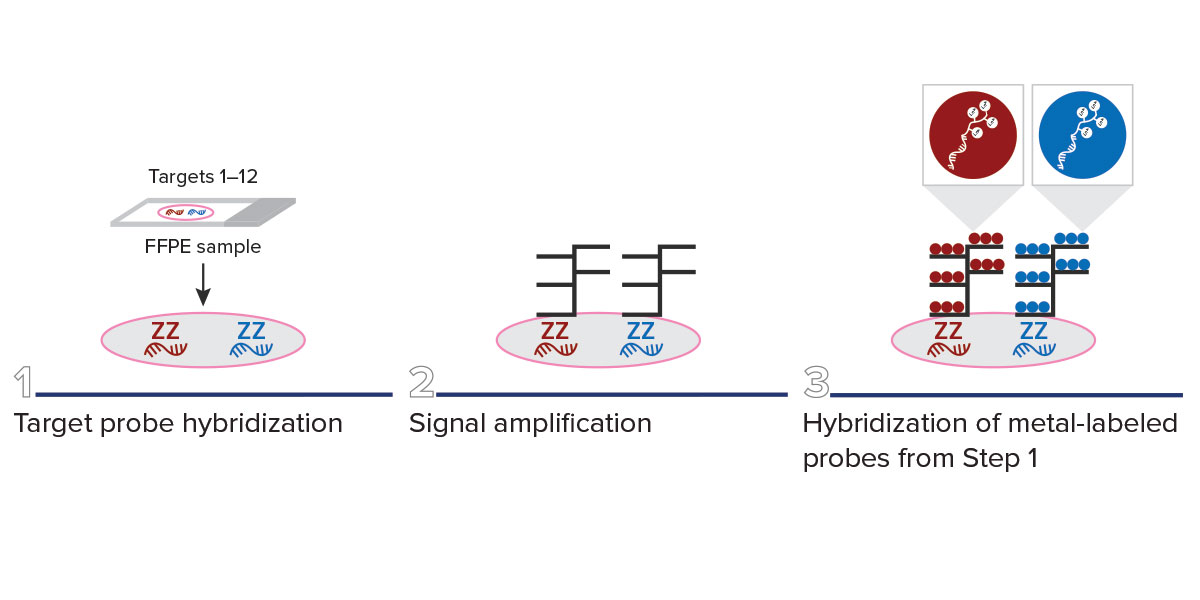 Step 3: IMC Antibody Staining Overnight
---
Perform IMC antibody staining overnight. Apply your antibody cocktail to your FFPE sections overnight. The next day, wash and add your DNA intercalator stain and then acquire your IMC data using a Hyperion™ Imaging System.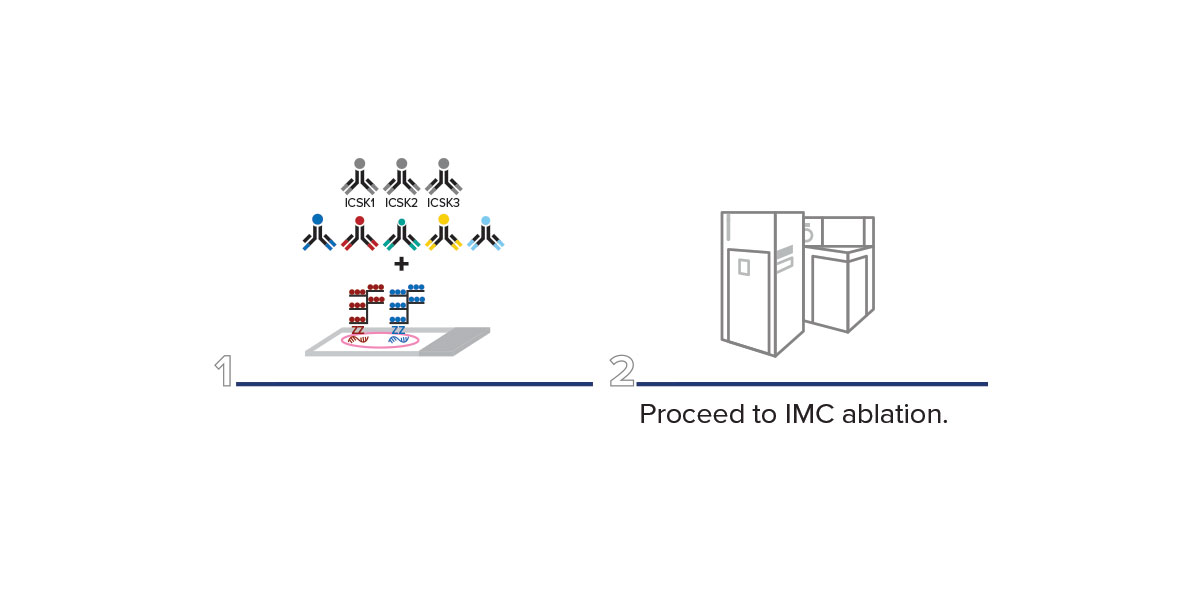 The poster authors were able to demonstrate the feasibility of this workflow by identifying proliferating cancer cells with high transcriptional activity in FFPE human lung tissue. They also identified PD-L1-rich cancer cells, activated T-reg cells and activated macrophages.
Lung tissue exhibits a high level of autofluorescence, but since IMC labels with metals that aren't present in tissue samples, background was a non-issue.
The protein markers used in this poster are from the Maxpar® Human Immuno-Oncology IMC Panel Kit and the Maxpar IMC Cell Segmentation Kit (ICSK). The Human Immuno-Oncology IMC Panel Kit enables interrogation of the tumor microenvironment including activated tumor-infiltrating lymphocytes in FFPE tissue sections using 18-plex IMC, while the ICSK includes three individual plasma membrane markers and provides improved nucleus and plasma membrane demarcation for downstream analysis.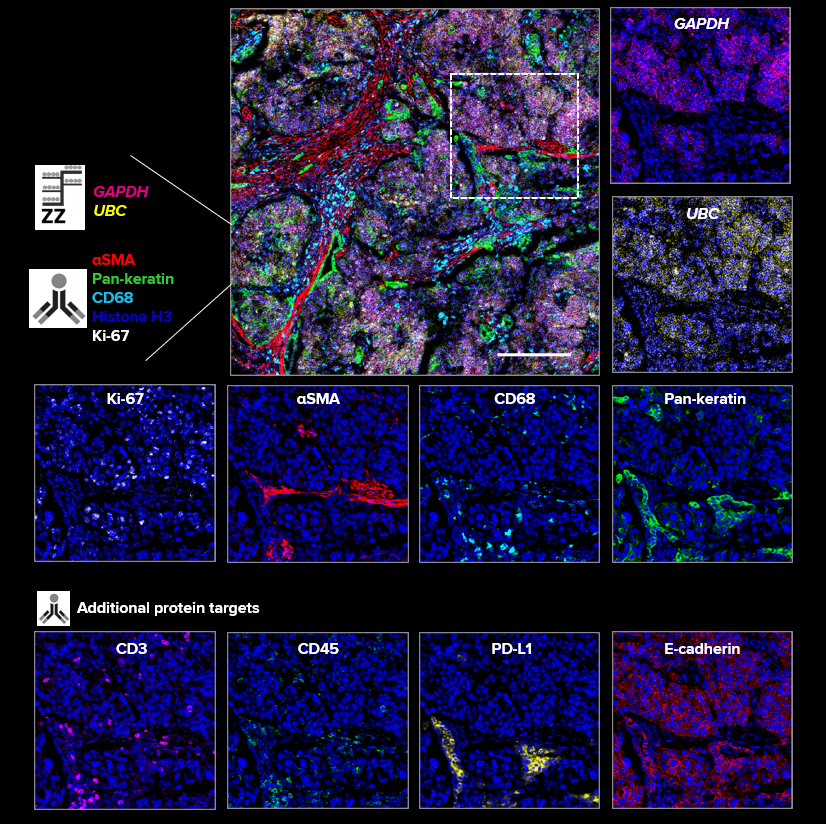 This new co-detection workflow provides the ability to now include targets previously inaccessible to IMC that have very few or no commercial antibodies available. Examples of these kinds of targets include:
Membrane-bound or membrane-associated proteins
Proteins with extensive post-translational modification
Proteins with a high-rate of turnover/degradation
Proteins that are transported out of the cell
This integrated approach allows for researchers to gain deeper biological insights, including better understanding of cellular function and activation state through knowledge of a cell's transcriptome and more information about specific targets that could lead to the development of more effective therapies.
Check out the RNAscope and IMC poster.
Read our technical note about co-detecting RNA and protein.
Learn more about getting started with this powerful workflow.
---
Check out other blog posts
---
Unless explicitly and expressly stated otherwise, all products are provided for Research Use Only, not for use in diagnostic procedures. Find more information here.