Five reasons to go beyond the limits of fluorescence with CyTOF technology
With fluorescence-based cytometry, designing high-parameter experiments can be challenging due to spectral overlap and autofluorescence. Here's how you can avoid those pitfalls and open new doors to discovery.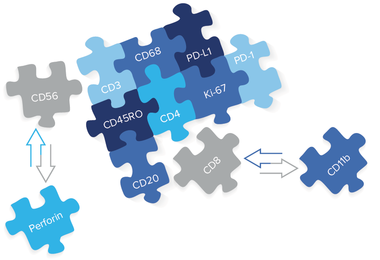 Flow cytometry is a widely used method for detecting the expression of cell surface and intracellular molecules for single-cell analysis. With fluorescence-based cytometry, designing high-parameter experiments can be challenging due to spectral overlap and autofluorescence.
In order to effectively design fluorescence-based experiments, users must have a strong understanding of suitable controls, correct compensation, clear sorting strategies and accurate data analysis. Managing so many variables tends to necessitate lower-parameter panels that can limit the research question with a biased study design. As a result, you could potentially miss or overlook a novel signaling event or significant effect of a certain cell type.
Here are five reasons why you should be using CyTOF® technology.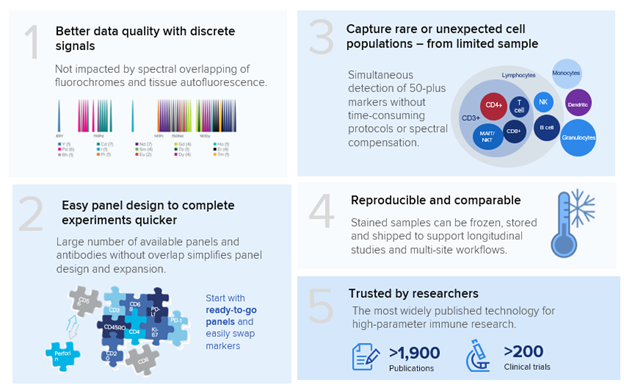 Unrivaled data quality with discrete signals

Mass cytometry by time-of-flight, the basis of CyTOF instruments, has powerful analytical capabilities due to its high-parameter, discrete signaling, which makes it ideal for applications like immune profiling and for clinical research samples. It separates the signal from the noise automatically, so you don't have to. Antibodies labeled with metal tags create distinct signals, resulting in clear data with no overlap and no need for compensation. This empowers you to use more markers for a robust set of highly multiplexed single-cell data.
Easy, flexible panels

The Maxpar® Direct™ Immune Profiling Assay™, a dried-down and ready-to-stain 30-marker panel, enables analysis of 37 immune cell populations in a single tube. In addition, nine Expansion Panels can be used to build on the backbone of the immune profiling kit, enabling detection of cytokines and cytotoxic mediators as well as markers for activation, exhaustion, suppression or migration. You can easily and quickly create your favorite panels by combining the base panel with Expansion Panels or choose from over 800 catalog antibodies to meet your needs, without additional optimizations or controls every time you change your markers.

Plus, CyTOF XT™ has 135 distinct channels with one detector, meaning simultaneous detection of distinct signals to above 50 markers in a single panel, limited spillover and more flexibility when it comes to building and adding to panels. There's no need to have multiple antibody-fluorophore combinations lying around in the fridge if you want to expand on your backbone panel.
Capture rare or unexpected cell populations from limited sample

Fluorescence-based cytometry results in overlapping emission spectrums, reducing sensitivity and making it difficult to parse cellular relationships. And a finite number of fluorophore tags means your panel builds are always limited.

CyTOF technology allows you to run your entire experiment in one tube, letting you save precious clinical research sample and simplifying your workflow and analysis. The use of metal labeling allows for precision of measurement as well as less reagent use to capture all cell populations in a sample. With no fluorescence, the resulting data is cleaner, even when detecting intracellular targets, and enables easier analysis of those challenging sample types.
Reproducible and comparable

CyTOF technology simplifies multi-site studies with streamlined logistics and chain of custody. Use of the Maxpar Direct Immune Profiling Assay allows different sites to stain and process samples in ready-to-use tubes, fix and freeze those samples and send them to a core lab to generate quality data.

High-capacity labs are complex workplaces with many moving parts. The Maxpar Direct Immune Profiling System shows a high degree of inter-site reproducibility and intermediate precision, minimizing variabilities from different technicians, instruments or day-to-day operations.
Proven – and trusted by researchers

There are over 1,900 peer-reviewed publications and 200 clinical trials powered by CyTOF technology. And high-parameter immune research continues to evolve and advance: The maximum published panel size is currently 52 markers, about 20% of published CyTOF panels are 40-plus markers and there are currently more than 900 publications that use a panel of 30 or more markers. In fact, of more than 1,850 publications with 20 or more protein markers, 96% use mass cytometry!*

* Estimated using data as of December 2021
Check out other blog posts
---
Unless explicitly and expressly stated otherwise, all products are provided for Research Use Only, not for use in diagnostic procedures. Find more information here.