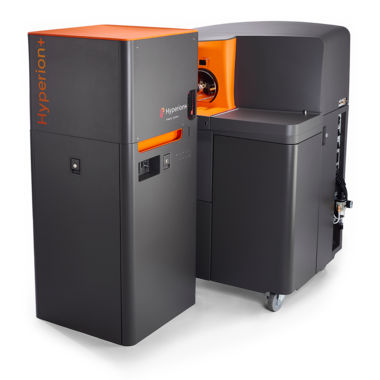 Hyperion+ Imaging System
Get data from 100+ samples a week
Use the power of Imaging Mass Cytometry™ (IMC™) to explore complex spatial relationships in the tissue and tumor microenvironment to gain new translational insights. Simultaneously examine 40-plus markers at subcellular resolution without spectral overlap or background autofluorescence.
Request a Quote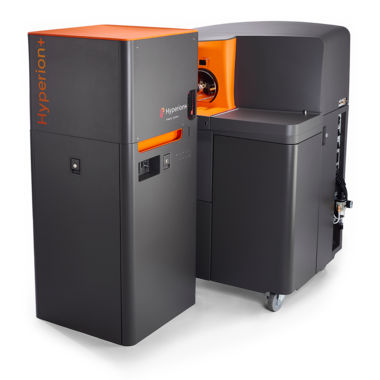 Hear more about the Hyperion+™ Imaging System
Animated launch video
Global launch announcement video
Technology
Gain unprecedented insights from highly multiplexed single-cell spatial biology
Imaging Mass Cytometry™ (IMC™) with the Hyperion+™ Imaging System allows you to uncover important spatial relationships with high-plex imaging of 40-plus markers simultaneously at subcellular resolution. A precisely directed laser beam focused at 1 μm collects biological samples stained with metal-tagged Maxpar® antibodies from a region of interest. Discrete signals from each ionized metal tag are detected with proven CyTOF® technology, based on differences in mass instead of wavelength. Thus, IMC eliminates autofluorescence and achieves uniform staining with minimal background. Large panels can be designed with little concern about antibody order or label assignment.
The Hyperion™+ Imaging System is the ideal solution when you work with heterogeneous biology where assessing key spatial information is critical to driving a deeper understanding of healthy and disease states. This system acquires images twice as fast as the Hyperion Imaging System and can process 100-plus samples per week. It also improves the limit of detection by at least 1.6x, meaning it better detects dim markers. Use this system to gain a better understanding of immunotherapy responses that could ultimately help extend patient lives, or to get faster results when you have a high number of samples or large cohort studies.
Workflow
1 Design
Design panels using pathologist-verified Maxpar antibodies conjugated to metal tags.
2

Stain
Stain tissues (FFPE or frozen) using familiar immunohistochemistry protocols.
3

Image
Image up to 40 protein markers in one scan at single-cell resolution using the Hyperion Imaging System.
4

Analyze
Analyze images in minutes using the MCD™ Viewer and easily export the resulting files for secondary analysis.
Publications
Learn about newly discovered translational insights and find links to prominent examples of researchers' work to learn why IMC is so valued for top spatial biology applications. Visit the new IMC Trending Topics and Publications page to see articles, tips, news and the latest IMC bibliography.
Learn more
GET MORE INFORMATION
Interested in Standard BioTools Imaging mass cytometry products or need a quote? Contact our sales team for product orders, quotes or other inquiries.
CyTOF Software
CyTOF® Software offers support for the imaging and cell suspension-based sample analysis to Hyperion™ Imaging System and Helios™ system users. The software has the built-in capability to switch sam...
CyTOF Software (Non-acquisition workstations only)
CyTOF® Software offers support for imaging analysis to Hyperion™ Imaging System users.
CyTOF Software v8.0
CyTOF® Software v8.0 offers support for cell suspension-based sample analysis to the CyTOF XT system. The software has the built-in capability for automated calibration, batch sample acquisition, a...
histoCAT
The histoCAT™ software is an innovative computational Imaging Mass Cytometry™ analysis toolbox that enables comprehensive analysis of cellular phenotypes and their interrelationships within the spa...
MCD Viewer
MCD™ Viewer is post-acquisition data processing software that allows users to visualize, review, and export Imaging Mass Cytometry™ data acquired with the Hyperion™ Imaging System and CyTOF® Softwa...
Visiopharm Software
As high-plex IMC™ data continues to stretch our abilities to interrogate the tumor microenvironment, finding meaningful differences in your data becomes an ever more data-heavy and daunting challen...
Specifications
The Hyperion+ Imaging System comprises a Hyperion+ Tissue Imager, a Helios system and software for data acquisition and viewing.
Hyperion Tissue Imager dimensions*
Abundance sensitivity
0.3% for 159Tb
Detection limit
≥250 copies per μm2
Dynamic range
4 orders of magnitude
Operating system
Windows® 10 Enterprise
Data storage
OS: 240 GM and Storage: 8 TB
Switch time (between modes)
12 hr
Cross-cell contamination (redeposition)
≤2% (selected direction) at 200 pixel/sec
Crosstalk pixel to pixel
≤15% at 200 pixels/sec
Wet tissue thickness for full ablation
≤7 μm
Addressable sample size on slide
≥15 mm x 45 mm
Optical view of sample
≥250 μm x 250 μm
File type
TXT, multipage TIFF, OME-TIFF, MCD
Scan area
≥1 mm2/hr at 400 pixels/sec
Operating system
Windows 10 Enterprise
Data storage
OS: 240 GB, Storage: 8 TB
Dimensions
Height 34.5 cm (14 in) , Width 13.4 cm (5 in), Depth 35.6 cm (14 in), Weight 8 kg (18 lb)
* The Hyperion Tissue Imager must be placed directly in front of the Helios.
** 1,000 x 1,000 μm region of interest (ROI)
Unless explicitly and expressly stated otherwise, all products are provided for Research Use Only, not for use in diagnostic procedures. Find more information here.