Helios, a CyTOF System
A powerful high-parameter cytometer and the signal detection platform for the Hyperion Imaging System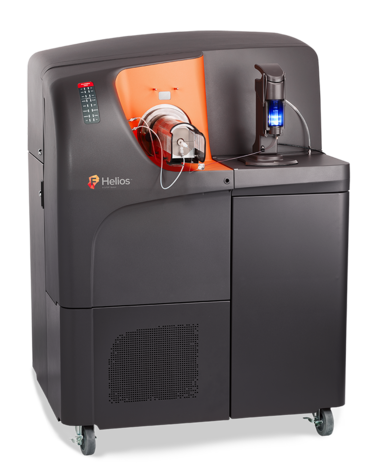 Technology
The Helios™ mass cytometer enables the sensitive and precise detection of metal-tagged antibodies bound to tissue regions of interest interrogated by the Hyperion™ Tissue Imager.
Helios also serves as a high-dimensional single-cell suspension analysis tool when decoupled from the Hyperion Tissue Imager. Learn more about the unique capabilities of the Hyperion+™ Imaging System to function in dual mode to perform high-multiplex characterization spanning cell suspension and tissue samples using proven CyTOF® technology.
For latest-generation, stand-alone cell suspension mass cytometry, the fully automated CyTOF XT™ provides significant advantages over the Helios system. Reimagine cytometry with CyTOF XT.
Workflow
1

Design panel
Easily build panels with up to 50 metal-tagged antibodies and reagents using Maxpar® Panel Designer. Add barcoding to multiplex your samples for even better data quality. Or begin by using pre-built panels.
2

Prepare samples
CyTOF systems provide highly multiplexed single-cell data from cell suspension samples. Standard protocols for preparing single-cell suspensions from solid or liquid tissues and tumors can be used for CyTOF sample prep. View our support page for staining protocols.
3

Acquire data
The Helios system provides the same excellent standard of data quality as the latest-generation mass cytometer, CyTOF XT, but requires manual resuspension and loading of samples.
4

Analyze data
CyTOF systems produce standard FCS 3.0 (Helios) or 3.1 (CyTOF XT) data files that can be analyzed with any compatible software, including but not limited to FCS Express™ and Maxpar Pathsetter™.
Publications
CyTOF systems are the only high-parameter cytometers backed by more than 1,500 publications. Covering a wide spectrum of diseases and research applications, this collection of studies demonstrates the versatility and proven performance of mass cytometry for translational and clinical research around the world.
Cytobank Analysis
Cytobank cloud-based data analysis software turns high-content data into high-impact knowledge by providing tools optimized for mass cytometry, including clustering (SPADE and viSNE), heat maps, do...
CyTOF Software
CyTOF® Software offers support for the imaging and cell suspension-based sample analysis to Hyperion™ Imaging System and Helios™ system users. The software has the built-in capability to switch sam...
FCS Express
FCS Express™ is a fully integrated analysis, statistics, graphing and reporting tool for turning cytometry data into presentation-ready and publication-ready results. Full support for Standard BioT...
Maxpar Pathsetter
Maxpar® Pathsetter™ is a fully automated reporting and data analysis solution that automatically identifies 37 immune cell types in FCS files from samples processed with the Maxpar® Direct™ Immune...
Software
Achieve the precise, repeatable results your research demands.
VIEW ALL
Support
A critical success factor when adopting high-performance technology is acquiring the proficiency and support necessary to accelerate your research and discovery initiatives. Standard BioTools™ PRO Services are a comprehensive portfolio of solutions to help you maximize your investment, scale up productivity and empower your laboratory with greater access to professional resources.
Specifications
Abundance sensitivity
0.3% for 159Tb
Instrument response
600,000 counts/pg 159Tb
Detection limit
350 antibodies/cell
Dynamic range
4.5 orders of magnitude
Operating system
Windows® 10 Enterprise
Sample introduction
Pneumatic single-tube loader with agitation, up to 5 mL volume
Peak throughput
2,000 events/sec
Replicate sample CV (normalized)
<3%
Operating system
Windows 10 Enterprise
Data storage
OS: 240 GB SSD, Storage: 2 x 8 TB
CPU
Intel Core i7-6700 @ 3.4 GHz
Dimensions
Height 34.5 cm (13.6), Width 13.4 cm (5.25), Depth 35.6 cm (14 in), Weight 8 kg (18 lb)
FCS
12.4 bytes/event/channel
TXT
2.4 bytes/event/channel
Mass Cytometry Technology Learn more about mass cytometry and how it is being used to advance basic and clinical research in oncology, immuno-therapy and infectious disease.
Unless explicitly and expressly stated otherwise, all products are provided for Research Use Only, not for use in diagnostic procedures. Find more information here.