Application note: Maxpar Direct Immune Profiling Assay Expanded to Explore Antigen-Specific Immune Responses
Building a 47-marker flow cytometry panel to explore antigen-specific immune responses.
T cells are involved at some level in almost every immune-mediated disease. Characterizing this complex immune cell compartment requires a high-parameter approach. In addition, assessing antigen-specific responses can provide vital information whether studying infectious disease, cancer, autoimmunity or allergy.
This application note outlines a method for performing such analyses using the dry-format Maxpar® Direct™ Immune Profiling Assay™ as a backbone to which a ready-to-use liquid Maxpar panel measuring activation status and cytokine production can be easily added. Open channels are then used to enable live-cell barcoding of samples, quickly creating a 47-marker cytometric experiment.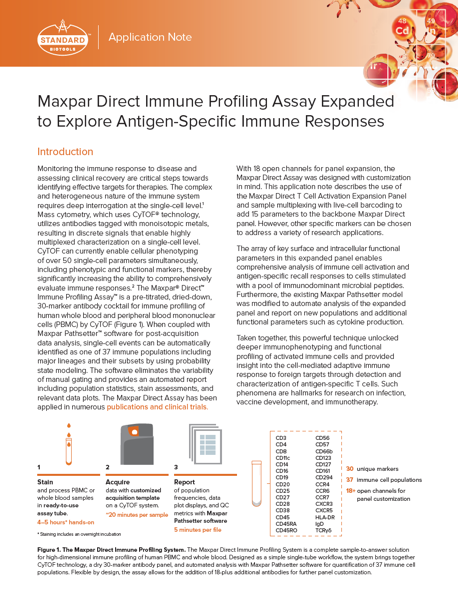 Submit the form below to download the application note.
Unless explicitly and expressly stated otherwise, all products are provided for Research Use Only, not for use in diagnostic procedures. Find more information here.