Biomark HD
Quality without compromise.
The Biomark™ HD system provides reliable production-scale throughput and excellent sensitivity, with a wide variety of sample types and chemistry choices to accommodate most genomic applications. It enables you to run entire projects from research and validation to routine screening on a single system with both flexibility and consistency.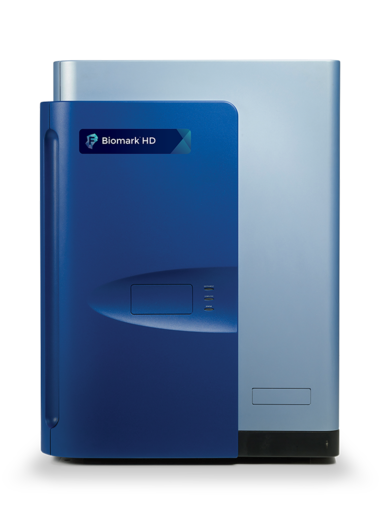 Technology
Our revolutionary integrated fluidic circuits (IFCs) empower life science research by automating molecular biology in nanoliter volumes. This translates to less sample and reagent, using a single microfluidic device to achieve the high-quality, consistent results your work requires.
Workflow
1

Prime
Prime the Dynamic Array IFC to prepare it for sample transfer.
2

Transfer
Pipet samples and primer-probe sets into the designated inlets on the IFC.
3

Load
Load the IFC on the controller, which prepares the reactions.
4

Run
Place the IFC into Biomark for thermal cycling and end-point or real-time fluorescence detection.
5

Analyze
View and analyze color-coded expression heat maps, allele maps and cluster plots for single or multipule runs with our analysis software.
Software
Achieve the precise, repeatable results your research demands.
VIEW ALL
Biomark and EP1 Software
The latest software for the Biomark™ HD, Biomark and EP1™ systems. Package includes software for data collection, real-time PCR analysis, genotyping, digital PCR and melting curve analysis. To inst...
Biomark Pathogen Detection Software
Software that analyzes qPCR Ct data from Biomark HD to detect and identify mutations. For installation and instructions please reference the Biomark Pathogen Detection Software Quick Reference Guid...
CopyCount-CNV Software
The cloud-based software analyzes raw fluorescence qPCR data from Biomark™ HD to determine absolute quantification and provide DNA copy number results. Applications include transgene copy number, e...
GO Immuno-Oncology Workbench
GO Immuno-Oncology Workbench is designed to further analyze primary data obtained with the Advanta™ IO Gene Expression Assay. GO Immuno-Oncology Workbench enables users to analyze large cohorts, di...
IFC Controllers Software (HX, MX, RX, and WX)
The latest software for IFC Controllers HX, MX, RX and WX. To install, follow the instructions in the Update Software and Scripts section of the relevant IFC Controller User Guide (HX/MX, PN 680001...
Singular Analysis Toolset Software
An innovative, open-source solution for analyzing and visualizing data, the Singular™ Analysis Toolset offers powerful methods for identifying gene expression and mutation patterns at the single-ce...
Support
A critical success factor when adopting high-performance technology is acquiring the proficiency and support necessary to accelerate your research and discovery initiatives. Standard BioTools™ PRO Services are a comprehensive portfolio of solutions to help you maximize your investment, scale up productivity and empower your laboratory with greater access to professional resources.
Specifications
Instrument (Part Number BMKHD-BMKHD)
Thermal Control
Peltier-based, 4–99 ºC
Heating ramp rate
Up to 5.5 ºC/sec
Cooling ramp rate
Up to 5.5 ºC/sec
Detection
CCD camera; 9M pixel, 12 μm x 12 μm pixel size
Fluorescence excitation
475 nm, 530 nm, 575 nm
Fluorescence emission
525 nm, 570 nm, 630 nm
Power requirements
100–230 VAC, 50/60 Hz, 300 W Fluidigm provides a region-specific power cord for the Biomark HD system.
Instrument Control Computer
Computation
Intel® Core™ i3-2120, 3.30 GHz
Ports
4 USB 1GB/sec Ethernet
Operating System
Microsoft® Windows® 10 IoT Enterprise 2016 LTSB (32 bit)
Accessories
Keyboard and mouse
Gene expression
48.48 Dynamic Array™ IFC 96.96 Dynamic Array IFC 192.24 Gene Expression IFC Flex Six™ Gene Expression IFC
Genotyping
48.48 Dynamic Array IFC 96.96 Dynamic Array IFC 192.24 Genotyping IFC Flex Six Genotyping IFC
Digital PCR
qdPCR 37K™ IFC 48.770 Digital Array™ IFC 12.765 Digital Array IFC
Data Collection
Biomark HD Data Collection software
Analysis
Real-Time PCR Analysis software, SNP Genotyping Analysis software, Digital PCR Analysis software, Melt Curve Analysis software
Work Environment (indoor use only)
Temperature
15–30 ºC (59–86 ºF)
Humidity
20%–80% relative humidity, non-condensing
Altitude
Not to exceed 2,000 m (6,560 ft) above sea level
Unless explicitly and expressly stated otherwise, all products are provided for Research Use Only, not for use in diagnostic procedures. Find more information here.