Microfluidics
MICROFLUIDICS. MEGA INSIGHTS.
Get big answers with micro-sized technology
Microfluidics technology empowers you to easily create the approach that's right for you, so you can find the answers you are looking for and even what you didn't know was there.
Simplifying your workflow through nanoscale automation maximizes efficiency and provides the flexibility to scale your projects with increased data output. This allows you to adjust your experimental plan to match your needs and your interests with microfluidics-based PCR and NGS library preparation.
Welcome to the power of micro.
NEW FEATURED INSTRUMENT
---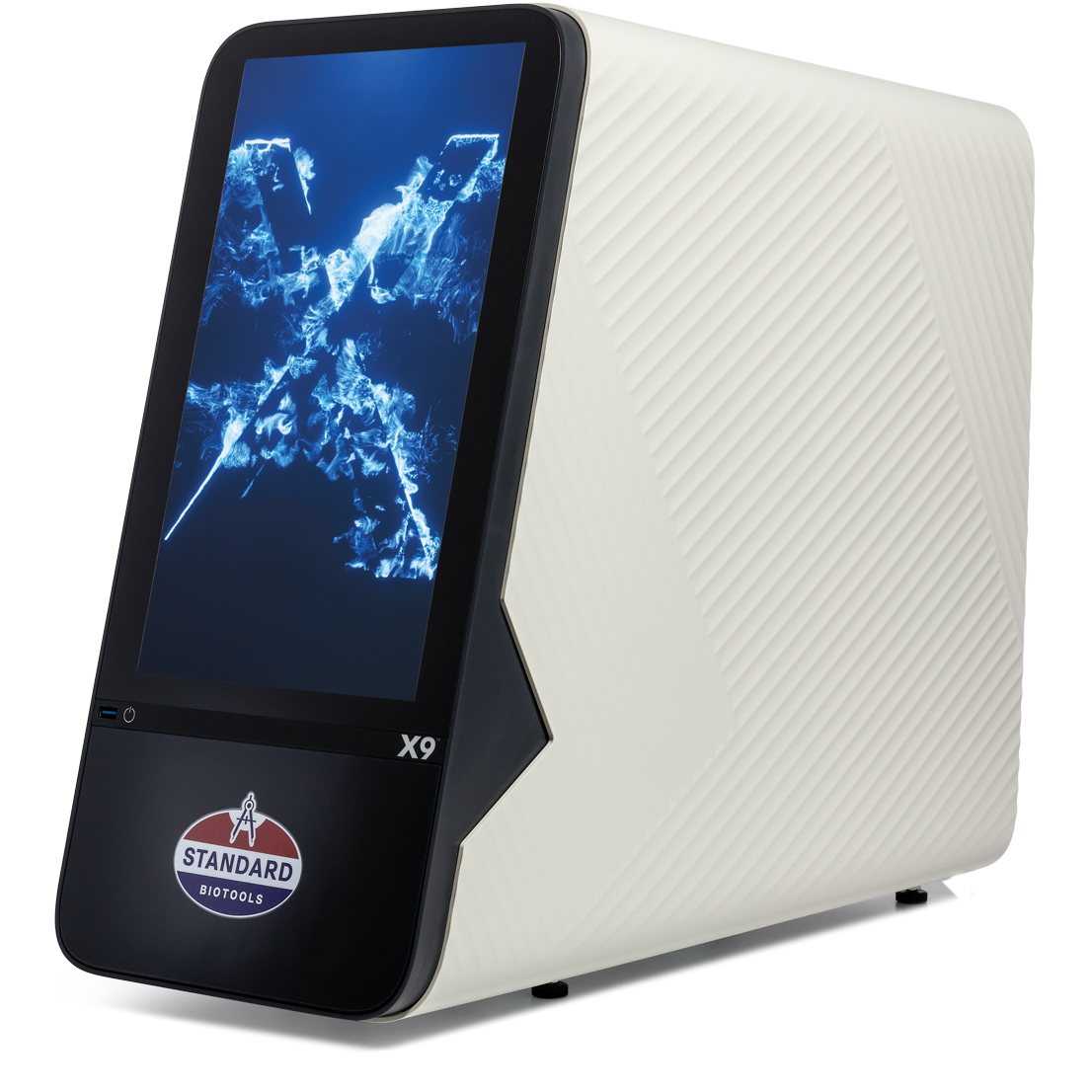 X9™ Real-Time PCR System
More Data. Deeper Insights. Less Effort.
An innovative high-capacity genomics system for superior efficiency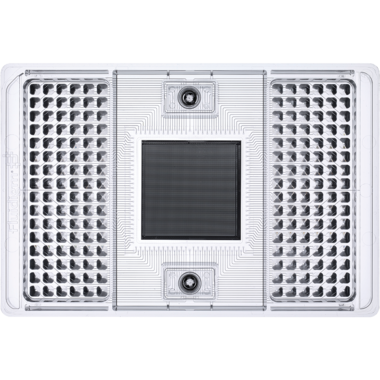 Miniaturization
Our integrated fluidic circuits (IFCs) have reduced reaction volumes, meaning you use less of your precious samples and reagents.
Scalability
Scalable sample and target options allow from 144 to 9,216 individual reactions per run without the need to change platforms.
Flexibility
Precision-manufactured IFCs support different configurations of samples and assays for a broad range of applications and the ability to quickly modify or add to an assay.
Automation
Automated, streamlined workflows provide the added benefits of time savings, ease of use and standardization.

Download this comprehensive brochure to learn more about our microfluidics instruments, consumables, major application areas and PRO Services.
HOW IT WORKS
Every Standard BioTools™ IFC contains a network of fluid lines, chambers and Nanoflex™ valves, rubber membranes that deflect under pressure to pinch off the flow of fluids in a microchannel. The movement, mixing and reactions of samples and reagents are controlled within the chambers of the IFC using microscopic gates, resulting in a closed system that eliminates many individual pipetting steps and has low contamination risk with high reliability. Samples and assays are loaded separately and then combined in a pairwise manner to create unique individual reactions.
WORKFLOW
Design
---
Easy-to-configure complex panels mean fewer design iterations and more time saved. Our D3™ Assay Design Group can also assist you in creating custom assay panels.

Conserve
---
About 2 µL of sample can be used for 384 targets, resulting in more than 9,000 reactions and helping you to conserve your precious materials.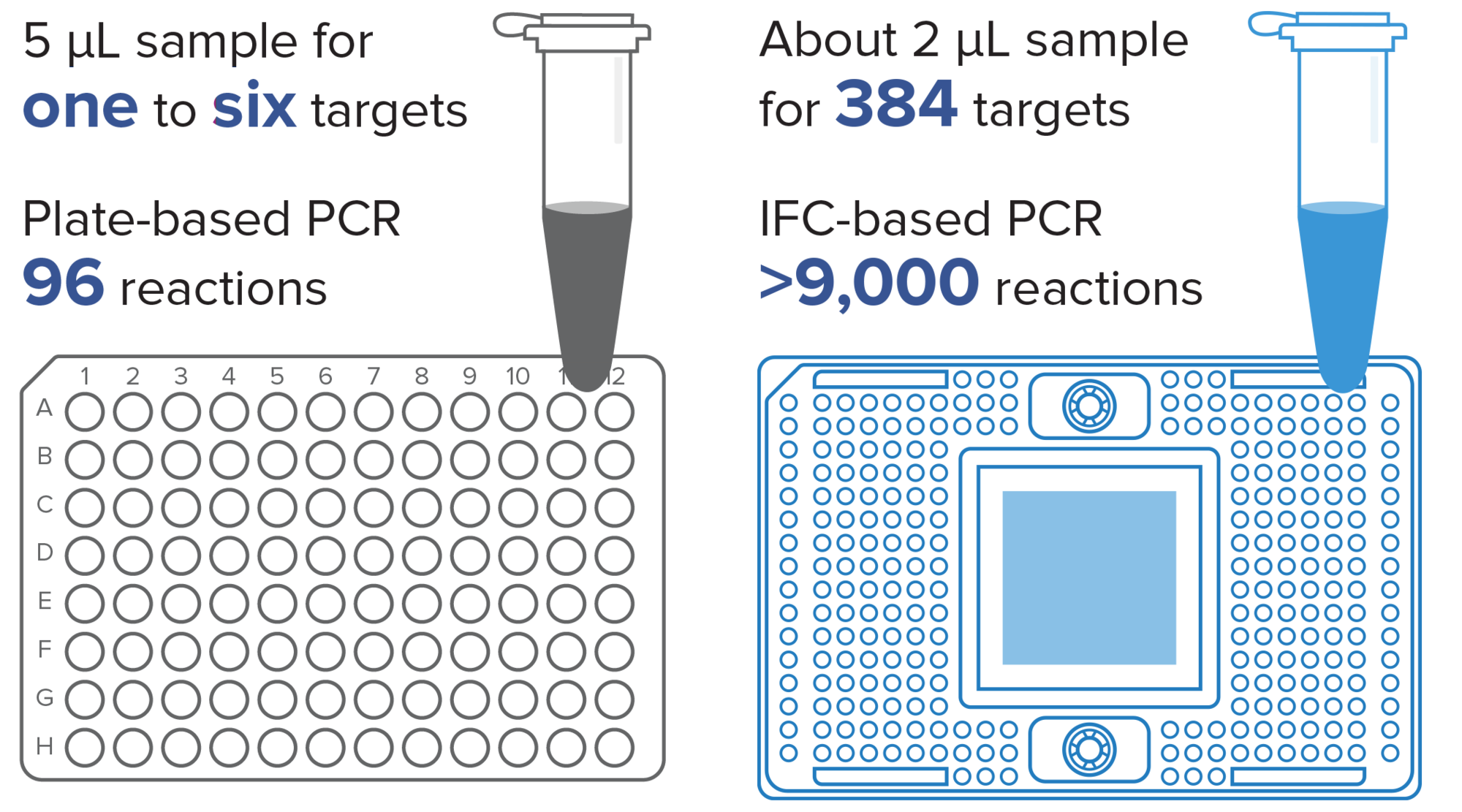 Customize
---
Thousands of nanoliter-scale inlets help your sample go hundreds of times further than with a 96-well plate. Scale throughput without changing technologies, and add, remove or replace assays on demand.

Analyze
---
Analyze your results with intuitive software.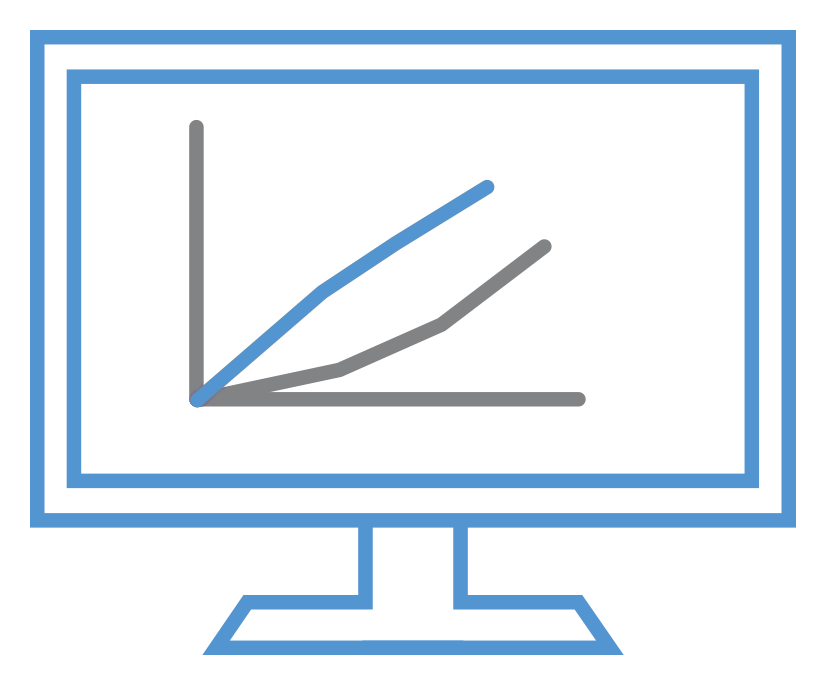 VIDEOS
IFC loading
See the Nanoflex valves at work and take a look at how an IFC automatically distributes and mixes samples and assays in nanoliter volumes, using less sample and less reagent, reducing cost and maximizing output.
Events
Join us for one of our upcoming events or watch on demand.
Feb 23 - Feb 26
Location
Aquaculture America in New Orleans, LA
Mar 05 - Mar 10
Location
DGfI Spring School on Immunology in Ettal, Bavaria
Mar 07 - Mar 09
Location
GPZ/GPW (Working Group Seed Science and Certification) & VDLUFA (Section IV Seeds) Seed Symposium 2023 in Nossen, Germany
Mar 09 - Mar 11
Location
Congress of the Association of Morphologists and the College of Histologists, Embryologists and Cytogeneticists in Lille, France
Mar 09 - Mar 10
Location
7th Annual Markets and Markets Next-Gen Immuno-Oncology Conference in London, UK
Mar 13 - Mar 15
Location
UNIGE (Conference of the International PhD Program in Life Sciences of The University of Geneva) in Geneva, Switzerland
Mar 13 - Mar 15
Location
XXI Scientific Convention in Riva del Garda, Italy
Mar 16 - Mar 17
Location
Brest Mass Days in Brest, France
Mar 20 - Mar 23
Location
10th Gene Quantification Event qPCR, dPCR and NGS in Freising-Weihenstephan, Germany
Mar 28 - Mar 30
Location
Forum Labo in Paris, France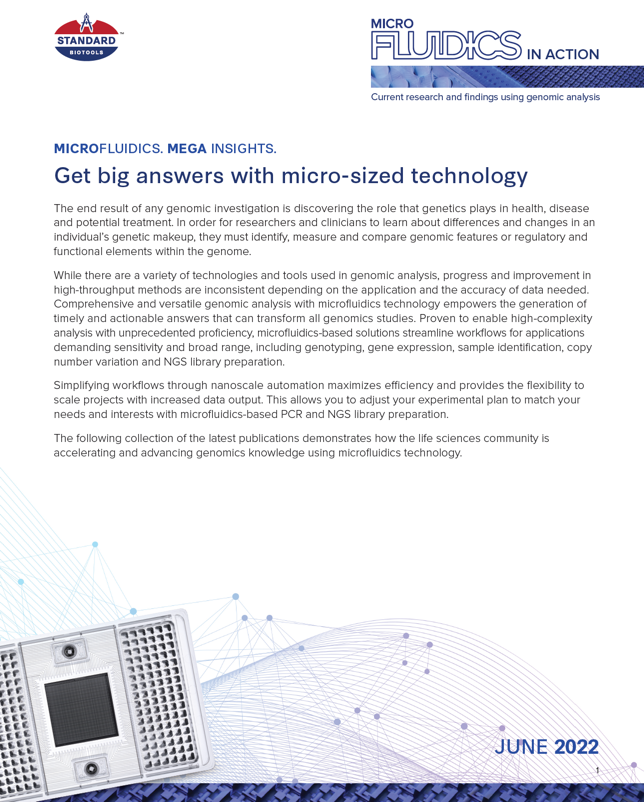 Get big answers with microsized technology.
View the summaries of the latest microfluidics publications, and learn how customers are making a difference in their labs.
Contact us
Interested in Standard BioTools microfluidics products or need a quote? Contact our sales team for product orders or quotes.
Unless explicitly and expressly stated otherwise, all products are provided for Research Use Only, not for use in diagnostic procedures. Find more information here.