It's easier than ever to design your high-multiplex imaging panel
Expand your options with Maxpar OnDemand metal-conjugated antibodies for Imaging Mass Cytometry
The launch of new Maxpar® OnDemand Antibodies adds flexibility to the Fluidigm Imaging Mass Cytometry™ (IMC™) antibody portfolio. Maxpar OnDemand Antibodies are a collection of carefully selected clones and metal options that give you more choice in your panel design for optimal flexibility and performance. With over 100 additional mouse and human antibodies, Maxpar OnDemand more than doubles the current catalog offering, including additional options for many of our top-selling Maxpar IMC clones as well as new clones and targets to expand available applications.
Maxpar OnDemand antibodies come in fixed 15 µg (0.5 mg/mL) vials and ship within 6 business days. They can be ordered in the same way as any of our catalog products.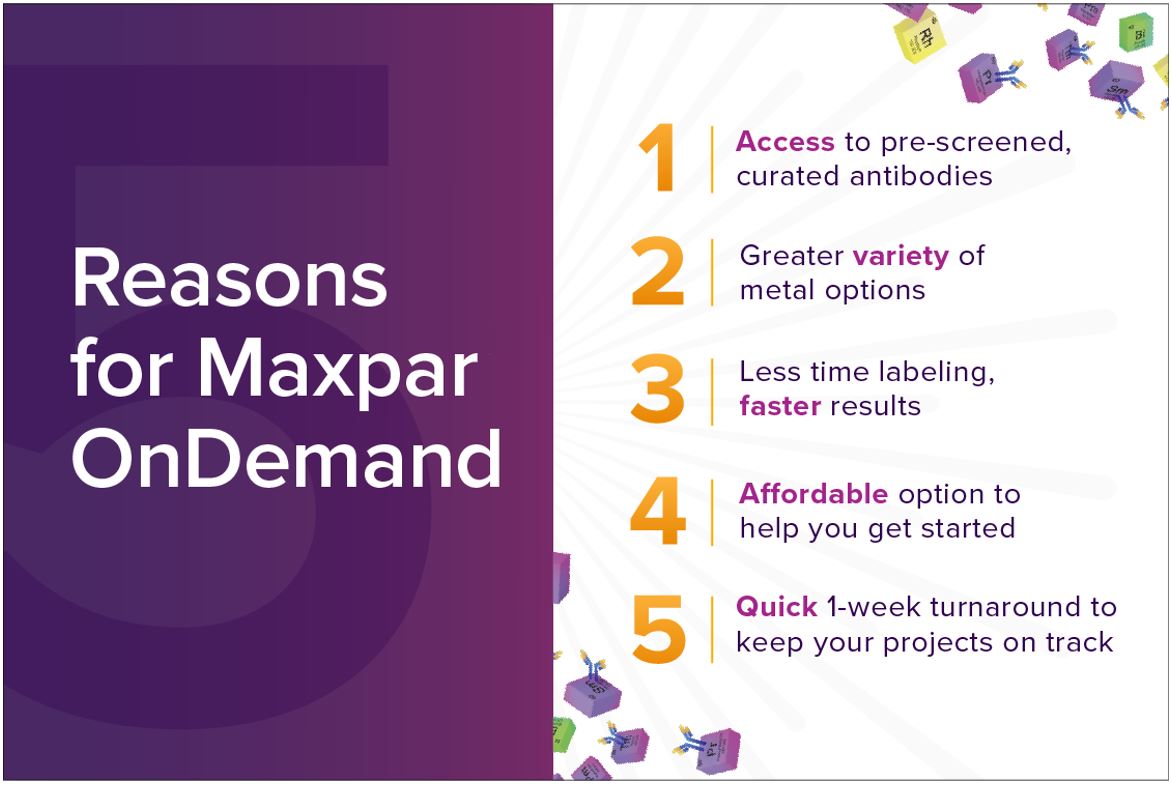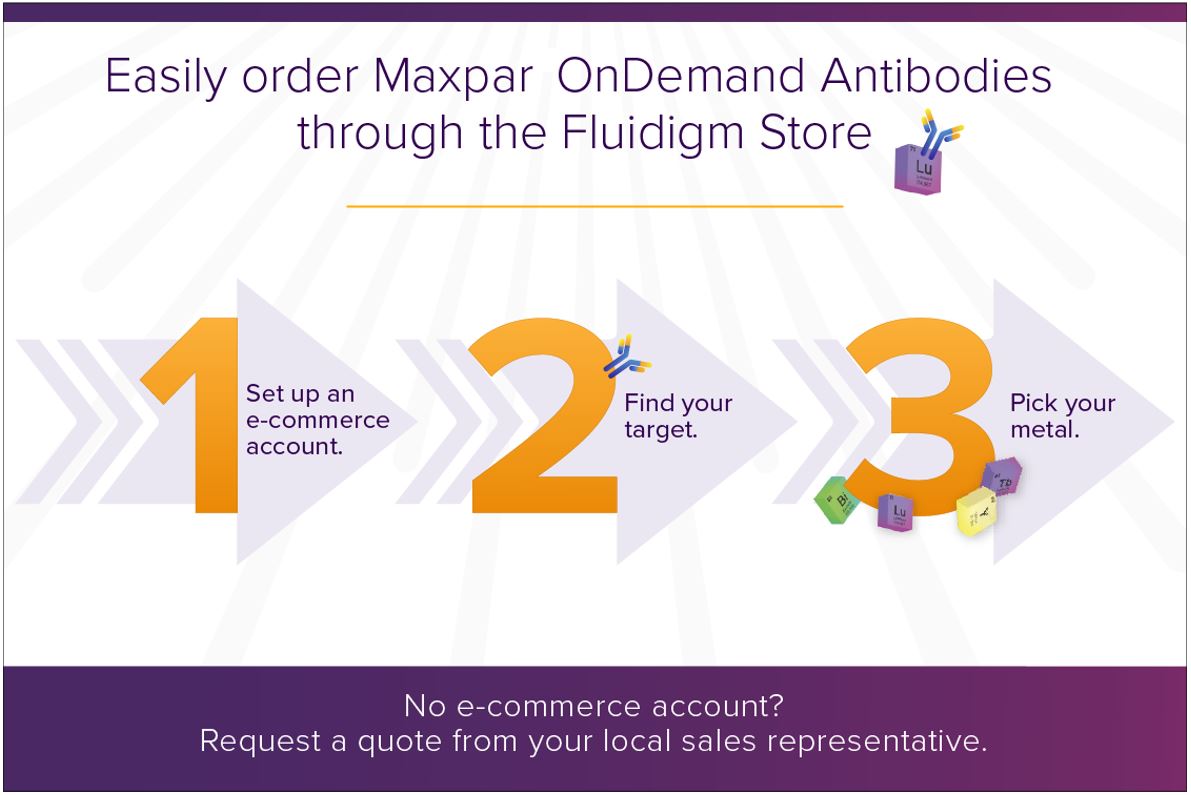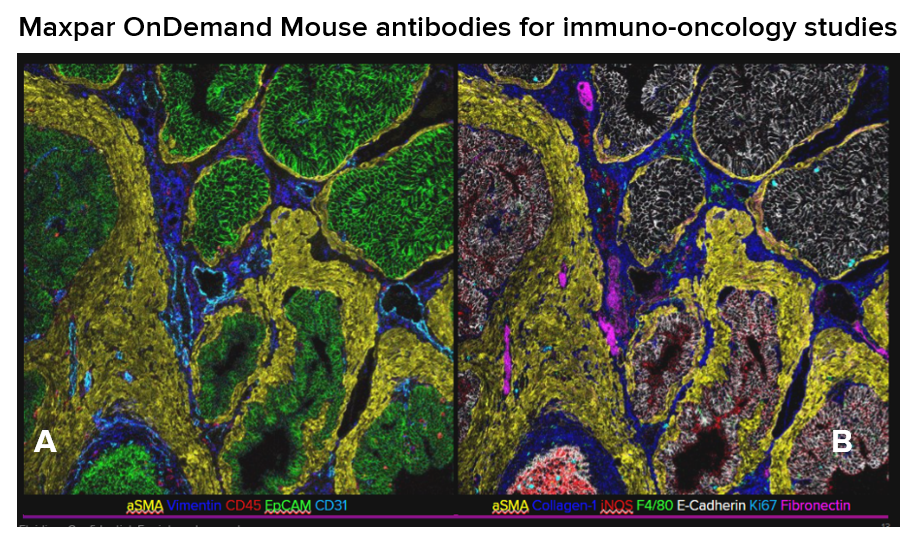 We've got you covered in more ways than one
Through Maxpar OnDemand, we will be rapidly expanding our antibody offerings, giving you continued choices that minimize the need to label your own antibodies. With this new offering, you may want to redesign or expand on existing panels. If you want help with this, please reach out to your field applications team or visit fluidigm.com/support.
If you don't find what you want in the catalog, or for large-volume needs, consider requesting custom conjugation services and let our expert scientists perform the conjugation and quality control for you. For those projects where you wish to perform your own conjugation, antibody metal labeling kits are available.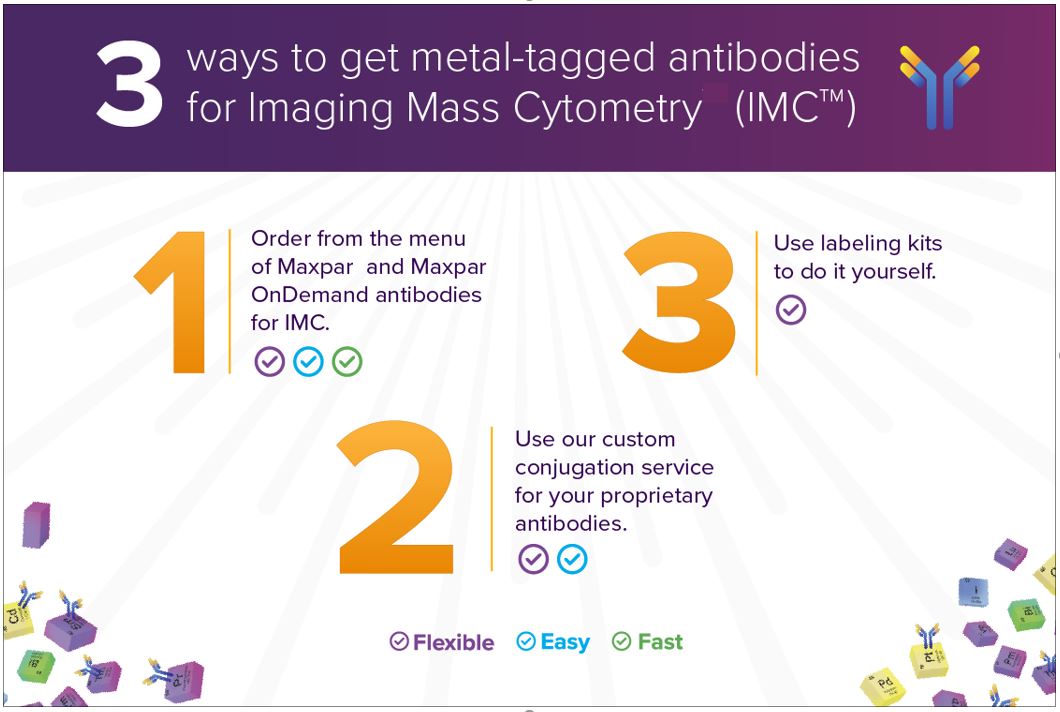 How we ensure quality
Because Maxpar OnDemand Antibodies are made in small batches, there are differences in the QC process compared to our traditional Maxpar catalog antibodies, which are made in large lots. Each Maxpar OnDemand Antibody clone is pre-verified by IMC in a biologically relevant tissue. Each batch then undergoes a biochemical verification to confirm performance. This streamlined process balances the importance of consistency, flexibility and fast turnaround time.
Not familiar with IMC?
---
Contact us
If you would like to receive occasional announcements about events, new products and other information related to IMC, please complete the following form.
Unless explicitly and expressly stated otherwise, all Fluidigm products are provided for Research Use Only, not for use in diagnostic procedures. For more information see www.fluidigm.com/legal/notices.